Chef Cyndie Story Ph.D., RDN, SNS
As the founder and leader of the K-12 Culinary Team, Chef Cyndie is skilled at evaluating and meeting clients where they are in the process of organization and professional improvement and providing a clear path to success. 
Any school nutrition professional working with Chef Cyndie experiences what she calls "edutainment"—a fun mix of education and entertainment for a memorable experience. Chef Cyndie works with staff to change lives by fostering teamwork as happy kitchens provide the best service to students. 
 Beverly Girard Ph.D., MBA, MS, RD, SNS
As a director for one of the largest districts in Florida for many years, Dr. Beverly knows that school nutrition professionals make a difference in the lives of countless children every day. She understands that clients are looking for real results for real-life challenges to keep providing the only dependable, balanced meal many children receive. 
She wants her work with school nutrition professionals to elevate their roles within the school and community, so their value is recognized. Her favorite recipe is Gocio Garden Lasagna, from the Sarasota County Chefs Move to Schools program. 
 Chef Andy Montero
Chef Andy comes to the K-12 Culinary Team with over 30 years of experience in independent restaurants, so culinary techniques, kitchen flow, and work efficiencies are his strengths. He wants clients to come away with a sense of pride in their work and understand that making high-quality food can be done with forethought and planning.
 Inspired by school nutrition professionals' impact on children, he aims to help them solve time and quality issues in the kitchen. Lemon and parmesan roasted broccoli is his favorite recipe to teach and eat because it's so easy, fast, and delicious. 
 Ursula Saqui Ph.D.
As the researcher and evaluator on the team, Dr. Ursula helps ensure clients get the results they want through research-driven strategy, clear objectives, and defined outcomes. She is inspired by the SNPs' dedication to their students and willingness to try new things with their menus and operational systems while dealing with challenges of federal requirements, supply chain issues, and satisfying multiple stakeholders. 
With her can-do attitude, Dr. Ursula is always ready to jump in to find solutions to complicated problems and have fun along the way. Her favorite meal is steak, sweet potatoes, and almost any kind of fruit. 
 Chef Lindsey Schoenfeld RDN
Chef Lindsey knows what's it like to work hard in the kitchen while balancing nutrition regulations as she has worked as an operations supervisor, menu planner, nutritionist, and director. In educating clients, she loves to see them have that one "ah-ha" moment that can make their day less challenging and more efficient. Chef Lindsey believes that listening and learning from one another motivates the team to do their job well. 
In helping school nutrition professionals provide the best ingredients and nutrition for their students, she sees students perform better in the classroom, are happier, and set themselves up for a healthier future. Her favorite recipes to teach are quick breads, which give off a fantastic smell that travels through the kitchen, and roasted vegetables with fun seasonings, raising the students' interest in vegetables.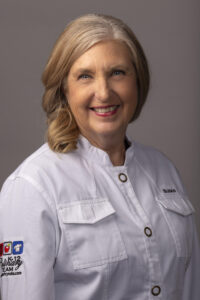 Susan Thompson MS, RDN, LDN, SNS
Helping school nutrition professionals focus on their strengths while seeing opportunities for new growth and learning to become culinary professionals is where Susan's experience as a school nutrition specialist and registered dietitian shines.
She loves working with school nutrition professionals because they are the best at sharing, caring, and working together. Collaborating  with the K-12 Culinary Team, Susan has helped develop over 200 recipes and tasted most of them. But being a southern girl, one of her favorite dishes is homemade macaroni and cheese.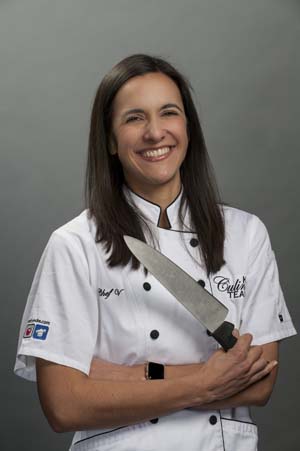 Chef Vahista Ussery MS, MBA, RDN
Chef V understands the ins and outs, the challenges and joys, and the realities of school nutrition. She worked in school districts for several years, gaining invaluable experience on the front lines and behind the scenes. She knows that school nutrition professionals have the unique opportunity to influence children's eating behaviors. Encouraging children to select nutritious choices at school teaches them lifelong healthy habits that they carry with them throughout their lives.
Chef V enjoys working alongside school nutrition staff, supporting their work through practical, hands-on training. One of her favorite techniques to teach staff is how to roast vegetables. She also enjoys developing delicious and nutritious recipes that staff and students love! At home, she loves to make homemade pizza for her family and eat cheese and chocolate (but not together!).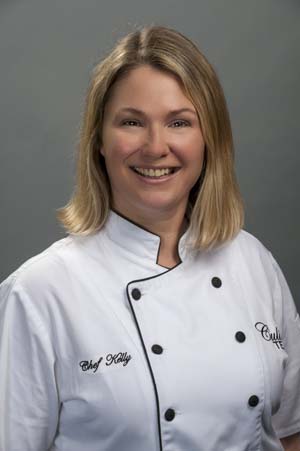 Chef Kelly Waldron BA
As a self-described "teacher at heart ", Chef Kelly empowers school nutrition professionals to feel confident and take pride in the difference they make every day. Her attention to detail and anticipation of obstacles help staff with the challenge of creating recipes students love despite logistical and budget constraints. Her favorite recipes are those that staff didn't think they would initially like but did once they ventured outside their food comfort zones.
 Chef Lydia West MPH, RDN
Chef Lydia's background as a registered dietitian nutritionist allows her to see how the food prepared for students affects their bodies. In addition, with her experience in USDA Child Nutrition programs and institutional food service, she brings a comprehensive understanding of the rules, regulations, and policies by which these programs have to abide. 
Chef Lydia aims to bring some of the "kale yeah" spirit to the trainings she does with School Nutrition Programs and values the tenacity staff have shown over the past couple of years related to COVID-19 protocols, supply chain, and logistics issues. Her favorite recipe is the Chicken Spinach Alfredo Bake the K-12 team developed due to its ease of being a one-pan meal containing three meal components.
Leverage the knowledge and experience of the K-12 Culinary Team so that your program runs smoothly with

skilled,

confident

staff.
Fill out the contact form below to send a message to the K-12 Culinary Team.
A team member will get right back to you.